Bitpapa Bot – Bitpapa is a global P2P marketplace where you can buy or sell cryptocurrencies. The trades are carried out between two peers, while Bitpapa guarantees the trade execution by holding the seller's coins in an escrow account until the trade has been completed.
Recently, Bitpapa launched a telegram bot which rewards every new users 0.00018 BTC which is equivalent to 1,600 converted to Naira. The bonus can be sold and withdraw directly through the bot and no referral is needed.
With Bitpapa Bot, you can accumulate upto 15k through the bot bonus link which is usually dropped on Bitpapa Telegram channel. Without wasting much time, let's see how it works..
How To Get N1,600 On Bitpapa
If you don't have a telegram account before, Download telegram apk on Playstore and create account. After creating account, follow the following instructions to earn N1,600…
Papa codes are sent to the group by Bitpapa administrator in form of link. Every user that is fortunate to be online when the papa code link was dropped, click the link and Start the bot will be rewarded with free BTC.
There is no specific time in which they drop the code link which simply means it's not always available. The code is limited to 100 users and usually drops 2 to 3 times a day. For you to benefit from the papa code link, you have to be active on Bitpapa Telegram group chat.
How To Accumulate Upto 15k & Above From Bitpapa Telegram Bot
The only way to accumulate more BTC through this bot us to create multiple telegram account. If you have many telegram account, just repeat the process you did on your main account to others.
If you don't have many telegram account, you can download Telegraph or Telegram X and use any of the two to create multiple account.
Once you have all the multiple account set and ready, all you have to do is be on alert incase new code links dropped. Immediately it drops, click the link and start the bot on each of your Telegram account.
How To Withdraw From Bitpapa Telegram Bot
Withdrawal is straight forward on the bot through P2P. Open the Bitpapa Telegram bot which you have funds to sell on.
Tap on Market then click Sell.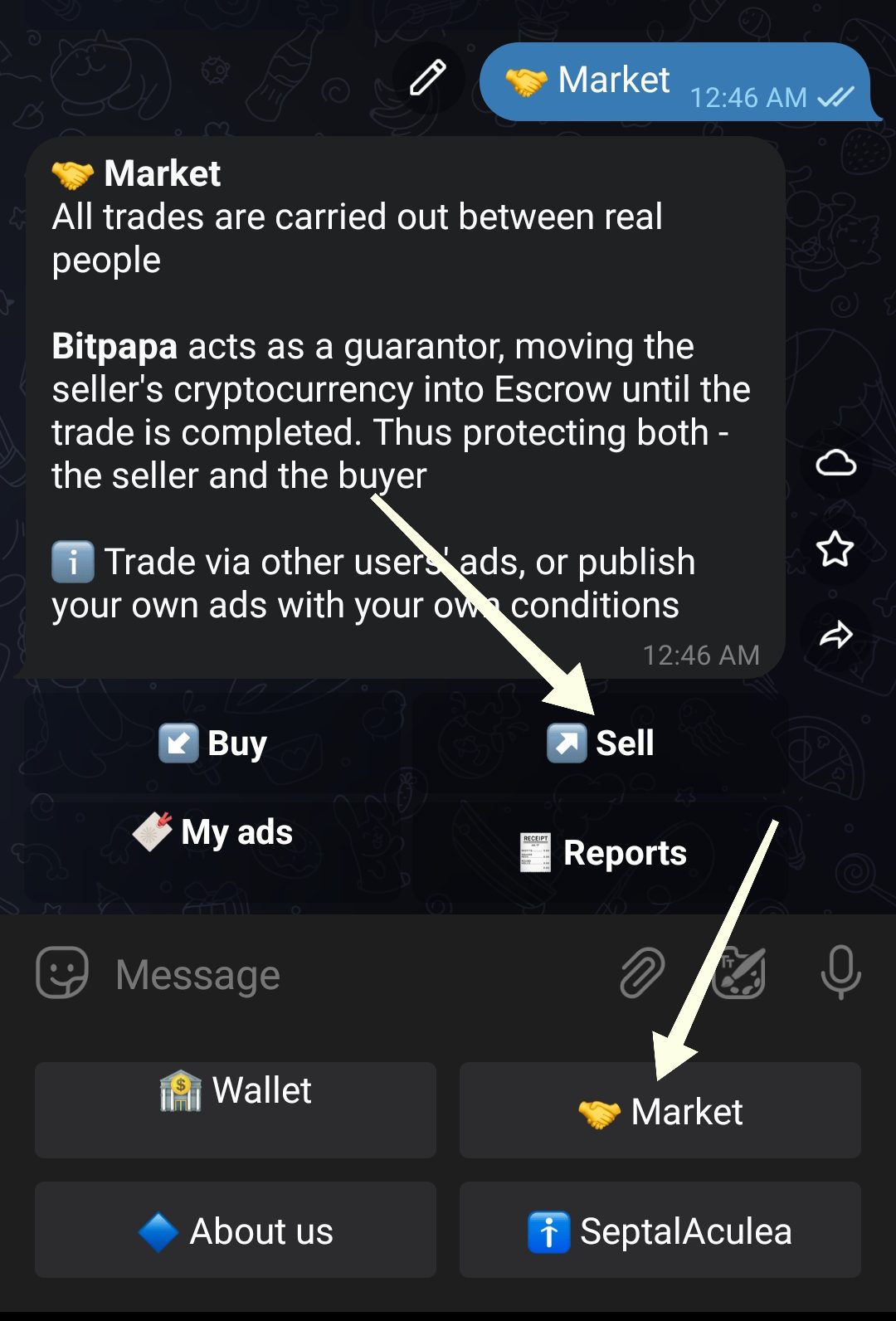 Select the Currency you want to sell BTC and the currency you want NGN.
Choose Bank Transfers, a list of vendors will be displayed with their buying limit attached.
If the fund on your wallet is below 2k, look for buyer with minimum of N1K then send the exact amount of BTC you want to sell.
If your BTC balance is 0.00018, type and send it. After that, a new message will pop up with an option to directly message the buyer via bot. Click on the message, type and send your account details. Once you received your payment, release the coin and your trade will be completed immediately.
That's how you can earn and withdraw upto 15k from the bot, do share this post with your friends & family.
Want To Stay Updated, Tap below buttons to join our members Now.


Do you have any issue setting this up? Use the comment box below to report any issue regarding to this post or any issue regarding to broken link on this post and you will be replied as soon as possible. You can also contact us on telegram.
Freebiestech
and its contents are protected by
COPYRIGHT LAW (DMCA)
with high-priority response rate. Reproduction without permission or due credit link back will cause your article(s) to be removed from search engines and disappearance of Ads on that page if monetized with AdSense.