MTN has recently launched an offer to reward customers who link their National Identification Number (NIN) to their MTN lines. This offer is being made to Nigerians by the South African-owned telecommunications company.
Early 2022, all Nigerians were directed to link their NIN to their Sim cards with a deadline attached. This deadline keeps getting extended to ensure that many Nigerians do not have their Sims Blocked.
After some months, Federal Government Direct all telecommunications company in Nigeria to Restrict all lines not linked with NIN from calling out. Which simply means they can only receive call but can't call out unless they link their NIN.
To Fasten the process of Linking NIN to sim card, MTN is now offering 20k Airtime Reward for linking NIN to MTN Sim card. The good news is that subscribers with blocked lines can have them unblocked by linking their SIM cards to their NINs, and there is a reward waiting for you as an MTN customer if you complete this step.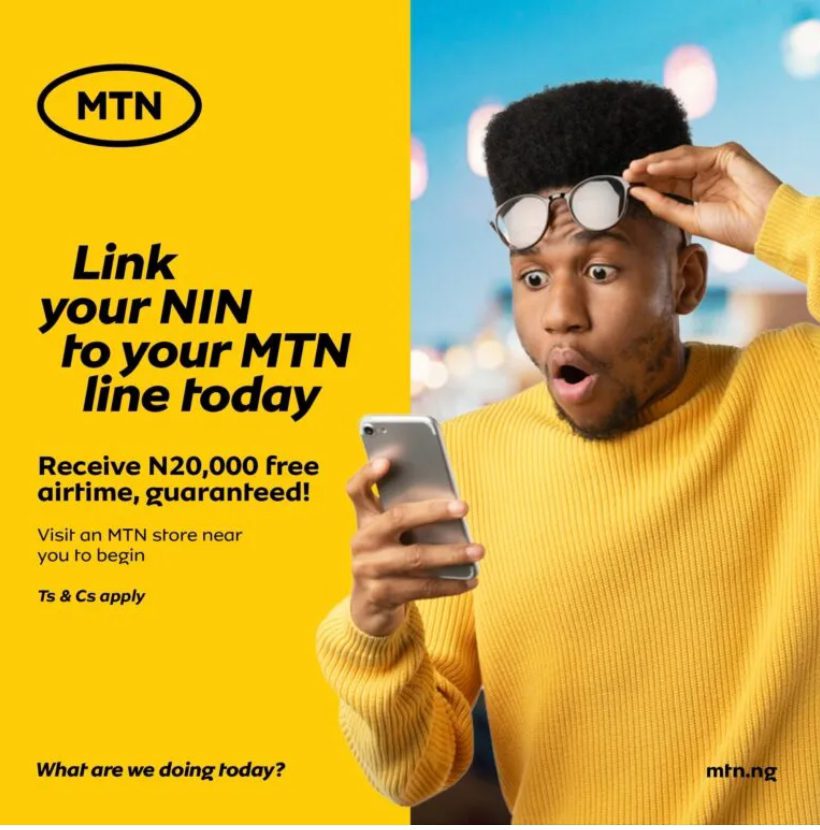 How To Claim The 20,000 Airtime Reward On MTN
Dial ∗785∗Your NIN# on your MTN SIM card to submit your National Identity Number (NIN).
You can easily get your NIN number on your NIN Slip or dial *346# then reply with 1. This should be done on the Sim you used while registering NIN.
Once your NIN has been linked to your line, you will receive a message informing you that you can now access the airtime bonus and you will be able to access the free airtime.
You can check your airtime balance at any time by dialling either ∗556# or ∗559∗64#.
The MTN NIN Offer is a one-time bonus available for only customers who are restricted or barred from making outgoing calls on the MTN network due to NIN noncompliance.
Want To Stay Updated, Tap below buttons to join our members Now.


Do you have any issue setting this up? Use the comment box below to report any issue regarding to this post or any issue regarding to broken link on this post and you will be replied as soon as possible. You can also contact us on telegram.
Freebiestech
and its contents are protected by
COPYRIGHT LAW (DMCA)
with high-priority response rate. Reproduction without permission or due credit link back will cause your article(s) to be removed from search engines and disappearance of Ads on that page if monetized with AdSense.